Mr Fattah's specialist interest in the NHS is the treatment of facial palsy the weakness of the facial muscles due to damage of the facial nerve. There are a number of causes and treatments vary with the type and severity of the condition. Bell Palsy is one of the most common causes in adults and facial physiotherapy is an important part of rehabilitation. Specialist therapies performed by Mr Fattah range from Botox injections in the clinic to restore symmetry to sophisticated microsurgical muscle transfer to reanimate the smile.
Detailed information and pictures regarding these procedures is available here. In children, such surgery is available at Alder Hey Children's NHS Foundation Trust where he has pioneered the multidisciplinary treatment of such children in specialised clinics including a specific clinic for the very rare Moebius Syndrome. In order to provide a similar level of care for Adult facial palsy patients, Mr Fattah works in conjunction with the team at Osiris Health that include experienced facial therapists, psychologists and a cohesive strategy to maximise patient experience and care.
Mr Fattah is a Consultant Plastic and Reconstructive Surgeon at Alder Hey Hospital. As with all NHS plastic surgeons, his NHS practice is largely reconstructive, dealing with reconstruction of skin lesions using flaps and grafts as well as more sophisticated techniques. In fact the vast majority of plastic surgery procedures carried out in the UK are reconstructive.
Reconstructive surgery aims to restore form and function whatever the problem. This includes surgery to reshape the body after birth defects, injuries, infections and cancer. Such operations typically use transfer of tissues around the body in new and exciting ways, such as transferring muscles to restore movement in a limb. Although function is important, a plastic surgeon is trained to improve appearance to reduce tell tale signs of surgery and the initial problem. For this reason, other specialties such as dermatology will refer patients with lesions that require removal but are significant enough to need reconstruction in order to close the wound or avoid deformity as a consequence of their surgery.
Mr Fattah undertakes the full range of reconstructive procedures including the removal of small skin cancers and has innovated the use of hidden incisions for treating benign lesions on the face, such as removing facial cysts from inside the mouth, via facelift scars or incisions hidden in the hair. Most such procedures are performed under local anaesthetic as a daycase.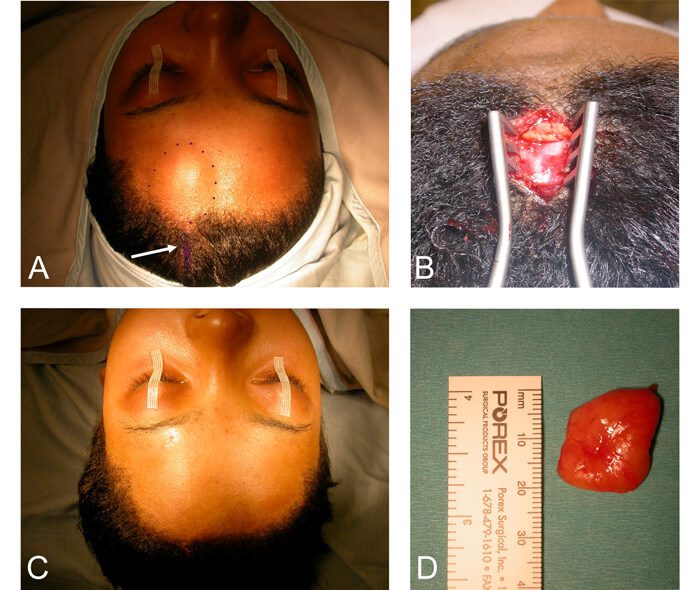 Removal of lipoma via hidden incision in the hair
A. Incision in the hair (arrow) that preserves sensation to the scalp.
B. Lipoma passed out of incision.
C. After the procedure.
D. The large lipoma removed intact.
International Patients
---
International patients are welcomed and we work in conjunction with insurers such as BUPA international to arrange your journey from start to finish. Children's treatments are performed at Alder Hey Children's NHS Foundation Trust, whereas for adults we will arrange the best facility that suits your needs. Most patients travel for complex reconstructive procedures unavailable locally. While it may seem daunting to travel abroad for treatment we will arrange clinic appointments, surgical dates, follow up care and accommodation for you and your relatives to make your trip as comfortable as possible. We can even help you make arrangements for dining and sightseeing.
The first step would be to request an appointment using the contact details on this website and we will return your enquiry within one business day to gather more information: We will need to know your medical history, specifically your diagnosis and the issues to be addressed. We then usually request that you send your medical records in English to us to be reviewed by Mr Fattah prior to an appointment confirmation. Thereafter we will help you every step of the way from travel arrangements through to cost estimates and billing.
Frequently Asked Questions
What reconstructive procedures does Mr Fattah specialise in?
Mr Fattah performs routine reconstructions such as skin grafts and flaps, mole and cyst removals as well as some skin cancer treatments. He also is involved in post-traumatic facial and nasal reconstruction. His super-specialist interest is in the management of facial palsy including eyelid and facial surgery to improve facial symmetry. He treats international paediatric patients for facial reanimation surgery at Alder Hey Hospital.
What is a graft or flap and why would I need one?
If you have a skin lesion that would leave a large gap when removed, then most doctors will refer you to a plastic surgeon. They use skin grafting techniques to borrow skin from another part of the body to cover the defect. A flap is different as it carries with it a blood supply; it is called a flap as traditionally it was a trapdoor-like flap of skin that was lifted up and moved into position. Nowadays, flaps can refer to a whole range of techniques that include microsurgical transfer of tissue to another part of the body such as for post-cancer breast reconstruction. Mr Fattah was part of the team that pioneered the use of the upper inner thigh for breast reconstruction in the UK.
Why can't I get my mole removed on the NHS?
If it is not deemed to be for medical need, most NHS Trusts no longer cover removal of benign moles due to restrictions on funding. A mole removal is a small procedure that can be performed on a "see and treat" basis in the clinic under local anaesthetic. Contact us to find out more.
Will my private health insurance cover the cost of reconstructive surgery?
To find out whether you are covered for reconstructive surgery, we suggest you contact your insurer as it will depend upon your policy and level of cover. If you are covered, Yours Sincerely Aesthetics will bill your private insurer directly.